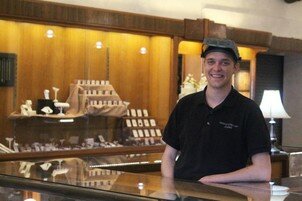 Chris Wattsson of Wattsson & Wattsson Jewelers, in Marquette Michigan discussed with The Retail Jeweler magazine his recent decision to join the Worthy Jeweler Network, a jewelry resale marketplace. Since joining, Chris has found that he is able to provide a solid resale service to his customers at no financial cost to the business. Read more to see how Chris has enhanced his business by tapping into a nationwide buyer network:
TRJ: With the growth of resale marketplaces more and more people are looking sell their valuables, including diamond jewelry. How do you answer this growing need of your customers?
CW: "The secondhand market is growing and becoming more popular, but mostly for clothing, fashion and costume jewelry. Customers are using ThredUp and Poshmark, for clothing and accessories, but for diamonds and diamond jewelry, there hasn't been a good way to resell. Coming into a store to do it, just seems like a more friendly and safe space. I am seeing more customers seeking to sell their diamond jewelry because of a divorce. And, they are selling other jewelry that is out of style or they just don't like. Being able to do it locally with me versus a trip to Green Bay is beneficial in a community like ours."
"The Worthy platform allows me to offer a service for my clients who wish to sell their diamond jewelry quickly and for a higher market value."
TRJ: "Why did you decide to join the Worthy Jeweler Network?"
CW: "When a customer asks to sell their diamond jewelry, it takes my store out of the pricing equation and that's impactful. I am not the one giving the price to the customer rather, the Worthy marketplace presents a value range based on similar items recently sold across the country. I provide the service by taking each customer thru the how-to steps from the item description, to setting the minimum sale price and starting the online auction. A customer can accept the highest offer or if the minimum sale price is not met, they can get their item back without any penalty. That's huge. Test and try. It gives my customers the opportunity to say no. They are in control. It makes for a better customer experience."
TRJ: "What impact does joining the Jeweler Network have on your business?"
CW: "Having the ability to offer this new service in our store is exciting for us. It's a service I can offer locally very easily, with no risk. Before, I was not able to buy it myself, but being able to tap into the Worthy platform opens up the market for resell (resale?) for our store."
"It's for all customers who want to resell. That is the beauty of why I like the platform, it brings a wide community of buyers to each auction. It really broadens the reach I can offer my clients and enhances the opportunity to sell their diamonds or watches."
GIA 1.39 CT round cut solitaire ring sold at auction on Worthy.com for $3,874
TRJ: 'Who are your main customers for this new service?"
CW: "The average age of the customers visiting my store is age 50+ and they are looking to sell their old diamonds versus holding on to them. Using the money now, to trade-in, to upgrade to a new piece is exactly why the Worthy platform is the ideal solution. It's immediate and I can offer a local and easily accessible resale opportunity for my clients."