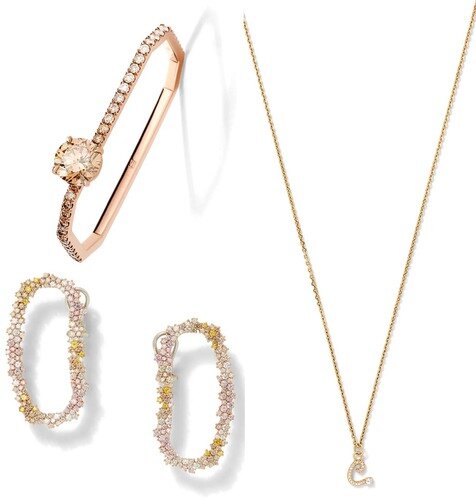 Written by: Jackie LeBental, Trends Editor@Barriluxco | www.barriluxuryconsulting.com
Power house designers, Eva Fehren, Ana Khouri, Anita Ko, Alison Lou, Ileana Makri and Arpana Rayamajhi have joined forces with one of the world's largest producers of rough diamonds. Rio Tino has been operating their Argyle mine in Western Australia since 1983. Completely committed to the highest environmental standards and ethically sourced stones from mine to market, this global diamond source and team of dynamite fine jewelry designers has created the most beautiful and feminine collection showing off natural colored Australian Diamonds.
I had the great pleasure of attending the launch event of "Diamonds with a Story" where I was able to see, first hand each stunning piece from this collaboration collection. Each designer created her own unique designs intertwining natural golden Australian diamonds with their signature motifs. The room was filled with excitement and fabulous buzz on how these incredible designers captured the natural essence of these ethically sourced diamonds in each original piece set either in rose, yellow and white gold. These exclusive pieces will be available on each respected designer e-commerce sites starting at $1000 retail.
To top this dazzling diamond collaboration off, world renowned photographers Dimitri Scheblanov and Jesper Carlsen of Herring & Herring captured beautiful photographs of each designer and their sparkling creations in a concept coffee table book. What a perfect manner to preserve this exciting design partnership.
Designer Bio's:Eva Fehren
- Eva Zuckerman designer behind Eva Fehren and the original X ring creator draws her electric inspiration from iconic New York City patterns and architectural elements. Contact: 646.861.3595
Ana Khouri
- Soft and sculptural Brazilian designer Ana Khouri collections have an elegant flow creating her signature look and style. Contact: 646.998.4840
Anita Ko
- Anita Ko the fierce LA designer always brings her diamond A game. Each piece designed with contemporary and classic elements and set to perfection. Contact: 424.302.0413
Alison Lou
- Alison Lou brings fun to fine jewelry. Her collections are whimsical with a side of humor that always stays original and unique. Contact: 212.327.0900
Ileana Makri
- Inspired by her world travels and Greek roots, Ileana designs modern and edgy collections for the stylish and chic ladies of the globe. Contact:
Arpana Rayamajhi
- As a true artist, designer Arpana combines her love for tribal motifs and natural influences to run throughout her one of a kind collection pieces. Contact: info@arpanarayamajhi.com
About Jackie LeBental
Jackie LeBental jewelry boss babe, owner of Barri Luxury Consulting and trends editor, provides jewelry brands, designers and retailers with personalized business solutions and extensive industry guidance. With over 10 years of sales management, growth driven results and an intuitive passion for goal achieving, she offers a fresh and honest approach to your business model.