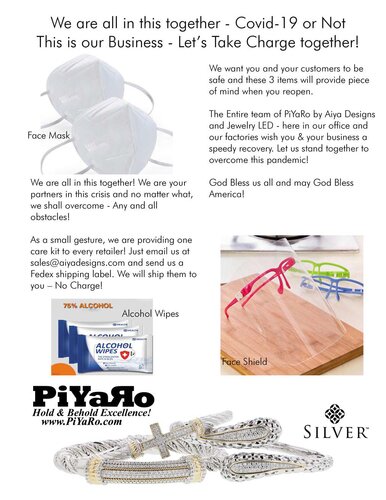 We're all in this together, COVID-19 or not; this is our business. Let's take charge together.
We're all in this together and PiYaRo is your partner in this crisis and no matter what, we are shall overcome any and all obstacles.
As a small gesture, PiYaRo is providing one care kit to every retail jeweler! Email the team at
sales@aiyadesigns.com
with a FedEx Shipping Label to your address. The PiYaRo team will ship out a complimentary care kit free of charge!
PiYarRo wants you and your customers to be safe and these items will provide piece of mind when you reopen.
The entire team at PiYaRo by Aiya Designs and Jewelry LED are in their office and factories and wish everyone a speedy recovery and resolution. "Let us stand together to overcome this pandemic" they assure with perseverance. "God bless us all and may God bless America"
This article was originally featured in the latest issue of The Retail Jeweler, available online now. The Retail Jeweler's May issue will only be distributed as a digital flipbook. To read the full issue, please visit: theretailjeweler.com/flipbook.