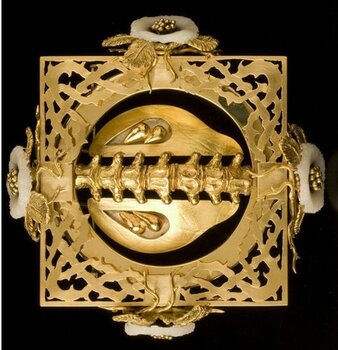 The April 12-13 event takes place at Bohemian National Hall
Initiatives in Art and Culture (IAC)'s Eighth Annual International Gold Conference, Gold: Vortex, Virtues, and Values, will take place Thursday, April 12 and Friday, April 13, at a new location, Bohemian National Hall, 321 East 73rd Street, New York City. The conference will explore the range of gold's subject matter, from responsible business practices, new trends in jewelry manufacturing, design, and apprenticeship.
New frontiers in social media, government and legal affairs, and presentations by some of goldsmithing's greatest artists round out the two-day event. During conference breaks, attendees will have the opportunity to purchase books related to gold and jewelry, and there will be book signings.
The distinguished speakers include gold jewelry designers and goldsmiths Wendy Brandes, Blair Lauren Brown, Leo and Ginnie de Vroomen, Alexandra Mor, and Katrin Zimmerman; as well as leaders in the responsible jewelry practices movement, such as David Bouffard, vice president, corporate affairs, Signet Jewelers; Stewart Grice, vice president, mill products, Hoover & Strong / Harmony Metals and Gems; Mark Hanna, chief marketing officer of Richline Group; Christina Miller, co-founder of Ethical Metalsmiths; and Monica Stephenson of Anza Gems.
Deborah Nicodemus, CEO of online retailer Moda Operandi, will take part in a conversation with Mickey Alam Khan, Founder and Editor-in-Chief, Luxury Daily, on jewelry and new business models.
Also on the roster are sessions on gold pricing, block chain technology, and a Washington update on laws and regulations; as well as an examination of gold casting, a panel on cultivating goldsmithing skills in a new generation, and the latest on jewelry technology advancements.
A special presentation by Jane Short, the enameler commissioned by the Worshipful Company of Goldsmiths in London to create the 1999 Millennium Dish, will celebrate the craft of enameling.
A champagne reception and celebration of women in the jewelry world is also planned, with a presentation entitled: "A Rising Tide: Women and the Jewelry Industry," led by Hedda Schupak, editor, The Centurion newsletter, and featuring Jenny Luker, president, Platinum Guild International, and president, Women's Jewelry Association. Other speakers will be added as well.
"We're thrilled with our list of speakers and sessions for the Eighth Annual Gold Conference," says Lisa Koenigsberg, president of Initiatives in Art and Culture. "We are taking our characteristic cross disciplinary approach to gold, incorporating speakers from the worlds of art, fashion, design, jewelry, technology, craftsmanship, sustainability, marketing, and business.
"There will be, as always, a special emphasis on responsible business practices in the jewelry supply chain, and new this year: a discussion on gender equality in the jewelry industry," says Koenigsberg. "The opportunity to meet and network with leaders from all sectors of the gold industry around these diverse topics makes our conference a unique experience for all attendees."
For more information and to sign up for Initiatives in Art and Culture's Eighth Annual International Gold Conference, Gold: Vortex, Virtues, and Values, taking place Thursday, April 12 and Friday, April 13, at a Bohemian National Hall in New York City, please visit: HTTPS://IACGOLD2018.EVENTBRITE.COM.