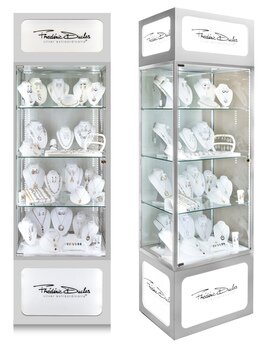 Award winning and best selling sterling designer Frederic Duclos is pleased to announce a special raffle at JCK this year. The prize is a coveted custom Frederic Duclos tower valued at $1600.
This display, made in Kansas, is a streamlined design. It is full vision from all four sides with excellent long life LED lighting. The elegant gray laminate and back lit logo on the header and footer add to the contemporary feel of this display. The height is 76" and the width of the three shelves (plus bottom) is an ample 24" x 18".
The raffle is open to stores placing an order of $2000 or more at the show.
Please contact stop by our booth at JCK, Design Center Booth B18136 or contact info@fredericduclos.com for more details.