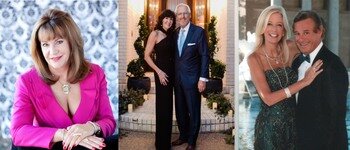 The 2019 inductees are Cathy Calhoun of Calhoun Jewelers, Julia and David Gardner of David Gardner's Jewelers & Gemologists, and Judy and Steve Padis of Padis Jewelry. "We are thrilled to welcome these jewelers into the National Jeweler Retailer Hall of Fame this year. We think this year's class includes some of the brightest and most forward-thinking independent jewelers in the business today," said National Jeweler Editor-in-Chief Michelle Graff.
Single-Store Independent
Cathy Calhoun, Calhoun Jewelers, Royersford, Pennsylvania
Cathy Calhoun's eponymous jewelry store is located about 30 miles outside of Philadelphia in a fully renovated bank. Her store and home, also a renovated bank, have both landed her features on HGTV's "If Walls Could Talk" and "You Live in What," as well as, more recently, an appearance in Netflix's "Amazing Interiors." She is a past president of the American Gem Society (2010 to 2012), and the organization awarded her with the first Sallie Morton Guild Award in 2014 and its Robert M. Shipley Award in 2017. She also was named the Pennsylvania Jeweler of the Year in 2009 by the Pennsylvania Jewelers Association. Calhoun serves on the board of directors for Jewelers Mutual Insurance Company, Jewelers for Children, the Diamond Empowerment Fund and Jewelers of America.
Single-Store Independent
David and Julia Gardner, David Gardner's Jewelers & Gemologists, College Station, Texas
David Gardner and his wife, Julia Gardner, opened David Gardner's Jewelers in the fall of 1983. Their designs have been worn by high-profile people such as Former First Lady Barbara Bush, Former "Good Morning America" co-host Joan Lunden and current "Good Morning America" anchor Amy Robach. The Gardners also are active in their community, engaging in more than 400 partnership big and small to help various organizations raise money and serving on numerous boards and in various organizations both inside the industry and out. The store itself has won numerous awards, including the Lifetime Business Achievement Award from the Bryan Rotary Club, and has been voted Best in Jewelry by the Brazos Valley community for 17 years.
Multi-Store Independent
Steve and Judy Padis, Padis Jewelry, San Francisco area
Steve Padis began his career as a jeweler while at the University of California, Berkeley by stringing beads and selling them on Telegraph Avenue. By the time he graduated in the early 1970s, he had met his future wife, Judy Padis—from whom he had purchased findings—and had branched out into sterling silver, turquoise jewelry and gold chains. Padis Jewelry opened in 1974, specializing in loose certified diamonds, engagement rings and fine jewelry. Over the year, the business has grown to three showrooms in San Francisco and a fourth store in St. Helena, California, with a fifth location, a Forevermark store, in the works. It currently is operated by Steve, Judy and their daughter, Alexis.
[Pictured, Left to right: Cathy Calhoun, David and Julia Gardner, and Steve and Judy Padis]